Bruce E. Porteous Endowed Professor in Political Science


Bruce E. Porteous (1916-2012) was a graduate of San Diego State University. He taught at Herbert Hoover High School from 1954 until his retirement in 1976. The Bruce E. Porteous Endowed Professorship in Political Science, was established through a gift from his estate, and is awarded by the Department of Political Science in recognition of a Professor's contributions to the department's mission. It provides funding to support teaching, scholarly, and outreach activities.
Upcoming/Recent Events


The E-Carceration of Asylum-Seekers
Monday, March 13, 3:30-5:30
Zoom Webinar: Webinar Registration
In person: Sripps Cottage
For those seeking safety in the U.S., being accepted into the asylum system is only the first step. Most wait years for a court date to make their case for protection. While waiting, they are increasingly subject to "e-carceration": electronic monitoring and intensive surveillance. This panel will examine the problems with digital prisons and explore more promising alternatives to preserve freedom and dignity.
The in-person event will be held at SDSU's Scripps Cottage with limited seating, but the live webinar permits attendance remotely.
Speakers:
Dr. Fatma Marouf, Professor of Law and Director of the Immigrant Rights Clinic, Texas A&M - "Finding True Alternatives to Detention and E-Carceration"
Mario Rivera, Co-founder of the Resist Surveillance Network (RSN) - "Stories, solidarity, and organized resistance among those impacted by e-carceration"
Laura Rivera, Senior Staff Attorney at Just Futures Law, Washington D.C. - "Unmasking ICE Digital Prisons: Legal and Organizing Responses to E-Carceration"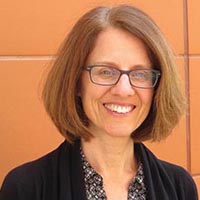 Kirsten Maher
Current Porteous Professor
Fall 2022-Spring 2024
Spring 2022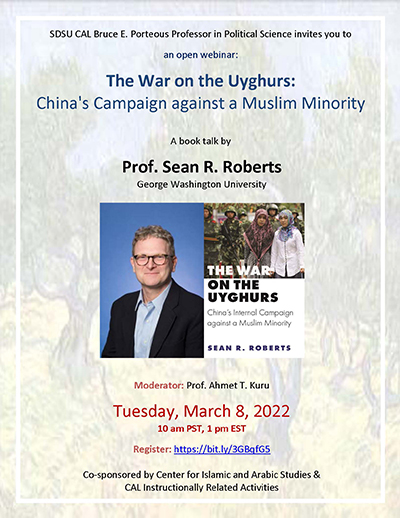 The War on the Uyghurs: China's Internal Campaign against a Muslim Minority
Open Webinar
Tuesday, March 8, 2022, 10 a.m. (PST)
Watch the 3/8 event video.
An open webinar by Prof. Sean R. Roberts on his recent book "The War on the Uyghurs: China's Internal Campaign against a Muslim Minority" which analyzes how the Chinese government's settler colonialism has tried to eradicate 12 million Uyghurs' religion, culture, and language.
Prof. Ahmet Kuru will moderate the Q & A.
Co-sponsored by Center for Islamic and Arabic Studies and CAL Instructionally Related Activities.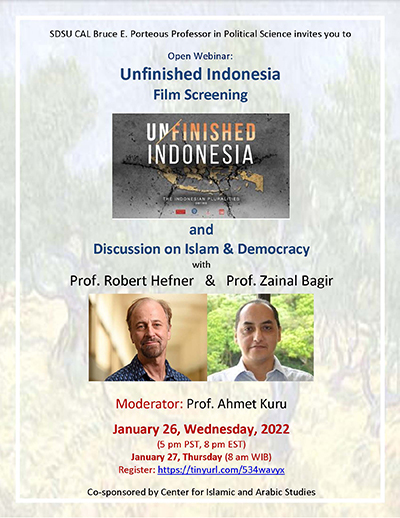 Unfinished Indonesia: Film Screening and Discussion on Islam & Democracy with Profs. Robert Hefner & Zainal Bagir
Wednesday, Jan 26, 2022, 5 p.m. (PST)
"Unfinished Indonesia" (46 min.) is part of a film series, "Indonesian Pluralities," co-produced by Prof. Robert Hefner & Prof. Zainal Bagir. It analyses Islam & democracy in Indonesia, the world's largest Muslim-majority country. This webinar will start with Prof. Hefner, continue with film screening, and end with Prof. Bagir.
The audience will be able to ask questions. The discussion will be moderated by Prof. Ahmet Kuru.
Co-sponsored by Center for Islamic and Arabic Studies.


Spring 2021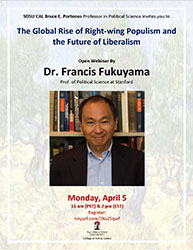 The Global Rise of Right-wing Populism and the Future of Liberalism
Monday, April 5, 11 am (PST)
Watch the YouTube Video of the Webinar
Francis Fukuyama will talk about the rise of right-wing populist movements throughout the world and its impact on the future of liberalism.
Francis Fukuyama is Olivier Nomellini Senior Fellow at Stanford University's Freeman Spogli Institute for International Studies (FSI), Mosbacher Director of FSI's Center on Democracy, Development, and the Rule of Law (CDDRL), and Director of Stanford's Master's in International Policy Program. He is also professor (by courtesy) of Political Science. Dr. Fukuyama has written widely on issues in development and international politics. His 1992 book, The End of History and the Last Man, has appeared in over twenty foreign editions. His most recent book, Identity: The Demand for Dignity and the Politics of Resentment, was published in Sept. 2018
The Q&A will be moderated by Ahmet T. Kuru.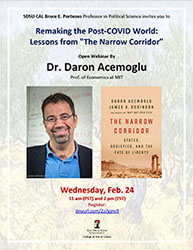 Remaking the Post-COVID World: Lessons from "The Narrow Corridor"
Wednesday, February 24, 11 am (PST)
Watch the YouTube Video of the Webinar
Daron Acemoglu will discuss how several economic and political faultlines of modern democracies have been exacerbated by the COVID crisis. He will emphasize what we can learn from the struggles of democratic societies and the dangers of democratic collapse in the past and in what ways those lessons need to be modified and applies to our current crisis.
Daron Acemoglu is an Institute Professor at MIT and the author of five books, including "Why Nations Fail: Power, Prosperity, and Poverty" and "The Narrow Corridor: States, Societies, and the Fate of Liberty" (both with James A. Robinson). His academic work covers a wide range of areas, including political economy, economic development, economic growth, inequality, labor economics, and economics of networks. Acemoglu is an elected fellow of the National Academy of Sciences, Turkish Academy of Sciences, American Academy of Arts and Sciences, Econometric Society, European Economic Association, and Society of Labor Economists. Many prizes he received include the Shultz Prize, Rosen Award, Turkish Sciences Association Award, Neumann Award, Carnegie Fellowship, Laffont Prize, Global Economy Prize, Clark Medal, Nemmers Prize, and BBVA Frontiers of Knowledge Award.
The Q&A will be moderated by Ahmet T. Kuru


Spring 2019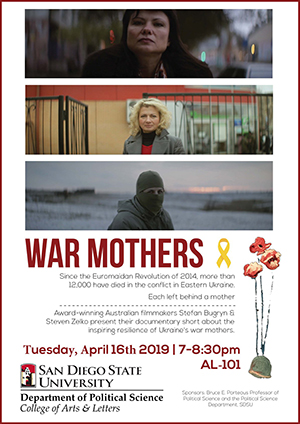 Film Screening: "War Mothers" (winner, Melbourne International Documentary Film Festival, 2018)
Tuesday, April 16, 7 - 8:30 pm
Since 2014, more than 10,000 have died in the ongoing war in Eastern Ukraine. Each one of them has left behind a mother. Watch this story of three Ukrainian women who lost their children to Russia's military intervention and who decided not to settle for the tragedy being dealt with themselves, to their country, and its people. Learn about their inspiring resilience. Filmmakers Stefan Bugryn and Steven Zelko will show and discuss with you their informative, moving, and inspiring stories.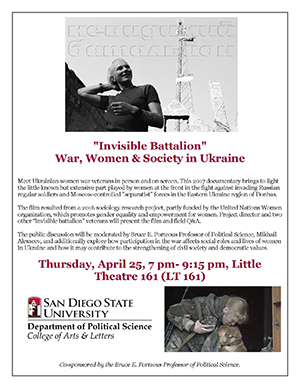 Film Screening and Lecture: "Invisible Battalion:" War, Women & Society in Ukraine
Thursday, April 25, 7 pm- 9:15 pm
Meet Ukrainian women war veterans in person and on screen. This documentary film in Ukrainian and Russian with English subtitles film brings to light the little known but extensive part played by women at the front lines of the fight against invading Russian regular soldiers and Moscow-controlled "separatist" forces in the Eastern Ukraine region of Donbas.
The film resulted from a 2016 sociology research project, partly funded by the United Nations Women organization which promotes gender equality and empowerment for women, as well as by the Ukrainian Women's Fund. Research project coordinator and former military volunteer, Mariya Berlinska will present the film and field Q&A after the film. She will be accompanied by two other Ukrainian women who participated in the invisible battalion.
The public discussion will be moderated by Bruce E. Porteous Professor of Political Science, Mikhail Alexseev, and additionally explore how participation in the war affects social roles and lives of women in Ukraine and how it may contribute to the strengthening of civil society and democratic values.
Spring 2018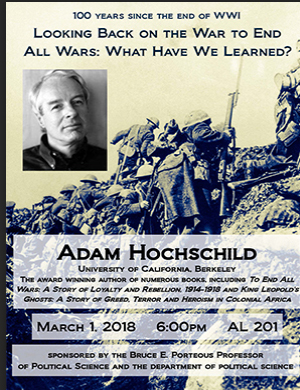 100 Years Since the End of WWI: Looking Back on the War to End All Wars. What Have We Learned?
Thursday, March 1, 6 pm
"If there were a single event of the 20th century that we could magically undo, would it not be the war of 1914-1918? It led to some 20 million military and civilian deaths, the rise of Nazism, the Russian Revolution, and another even more destructive world war." Adam Hochschild (UC Berkeley), author of To End All Wars: A Story of Loyalty and Rebellion, 1914-1918, gives an illustrated talk about this tragic conflict—and about those who refused to fight in it. Many of you know Hochschild as author of the very influential book "King Leopold's Ghost" that dealt with Belgian colonial horrors in the Congo. It is a great honor to have him give a talk on our campus. I encourage you to attend and to give your students incentive to do so as well.
Fall 2017
The Russian Revolution & Its Legacy
Tuesday, October 31, 7-9 pm
Featuring speaker Rex Wade, Professor Emeritus of History, George Mason University, speaker David North, National Chairman of the Socialist Equality Party in the United States, and commentator Mikhail Alexseev, Professor of Political Science, San Diego State University.
The 1917 Balfour Declaration: Promises, Betrayal and the Birth of the Israeli-Palestinian Conflict
Tuesday, November 7th @ 7:00-9:00pm in SHW 011
Featuring speaker Charles D. Smith, Professor Emeritus of History, University of Arizona, author of the acclaimed book, "Palestine & the Arab Israeli Conflict," commentator Farid Abdel-Nour, Professor of Political Science, San Diego State University, and Jonathan Graubart, Professor of Political Science, San Diego State University.
Spring 2017
Paul Amar (UC Santa Barbara) | Thug Love: Populism, Policing, and Resistance from Egypt and Brazil to Trump's America | April 10
Fall 2015
Joe Soss (Minnesota) | The Politics of Inequality in the United States Luncheon Series | November 9
Tali Mendelberg (Princeton) | The Politics of Inequality in the United States Luncheon Series | November 15
Fall 2014
Paul Pierson (UC Berkeley) | The Politics of Inequality in the United States Luncheon Series | October 20
Larry Bartels (Vanderbilt) | The Politics of Inequality in the United States Luncheon Series | October 27