Cheryl O'Brien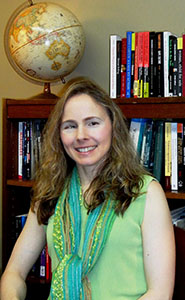 Office: NH 107 | Phone: (619) 594-3166 | Email: [email protected] (Email preferred)
Cheryl O'Brien's book manuscript is currently titled Transnational Influences on (Subnational) State Policy Responsiveness to an International Norm on Violence Against Women; it is based on her research for which she won the 2014 Best Dissertation in Women and Politics, American Political Science Association. Through a set of qualitative case studies and a broader statistical analysis in the dissertation, she explores the role that international norms and transnational actors play in shaping state policy responsiveness to violence against women in Mexico and Nigeria. She conducted dissertation fieldwork in Mexico and Nigeria, and has other fieldwork experience in Latin America and Africa.

Her research and teaching interests cover comparative public policy, social movements and networks, women and politics, policy and norms diffusion, human rights, citizenship, social justice, environmental justice, and alternative human security issues (e.g. food security).

She has worked on public policy and human security issues for NGOs in the US, Africa, and Latin America. UNHCR Staff cited her NGO work on gender, health, environment, and resource conflict as a key factor that led to an NGO's implementing partner status, allowing for scaled-up efforts to address these concerns in refugee camps in east Africa. She is currently serving as a Gender Specialist for Feed the Future (Global Hunger and Food Security Initiative) Projects in Kenya, Senegal, Ethiopia, Ghana, Bangladesh, and Guatemala.

She earned a BA in Sociology and a BA in English (Literature) from the University of Notre Dame, a Master of Education from Harvard University, a Graduate Certificate in Women's Studies (Public Policy and Women in an International Context) from Towson University, a Ph.D. in Political Science from Purdue University, and she was inducted into Purdue University's Teaching Academy for exemplary teaching.