G. Allen Greb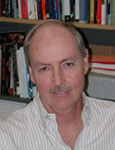 Office: SH 223B | Phone: (619) 594-3768 | Email: [email protected]

Dr. G. Allen Greb obtainied his Ph.D. in History from the University of California, San Diego in 1978 and his B.A. in History from UCLA in 1969.
From 2002-2021, Dr. Greb was the undergraduate advisor and coordinator of the International Security and Conflict Resolution (ISCOR) Program at San Diego State University. He also teaches courses for the program and the Political Science department. Prior to coming to SDSU, he served as the American coordinator of the international Nuclear History Program, with US headquarters at the University of Maryland and offices in Britain, France, and Germany; a research associate at Lawrence Livermore National Laboratory; and associate director of the University of California system wide Institute on Global Conflict and Cooperation (IGCC), centered at the University of California at San Diego.
His research and teaching interests are in the areas of nuclear arms control, nonproliferation, and science and public policy. He has published articles in such journals as the Bulletin of Atomic Scientists, Arms Control Today, and Pacific Historical Review. He is the coauthor of Toward a Livable World: Leo Szilard and the Crusade for Nuclear Arms Control. He has coordinated and managed international research projects on nuclear issues, organized a major workshop on the history of the American nuclear weapon design laboratories, and helped plan and carry out global security teaching seminars in both the United States and Europe.