Stephen Goggin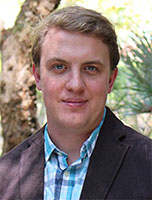 Office: NH 108 | Email: [email protected]

Stephen Goggin received his Ph.D. in Political Science from the University of California, Berkeley in 2016. His interests center on partisan polarization in modern American politics, particularly its role in shaping voters' ability to hold politicians accountable. He focuses on how information in media and electoral campaigns can distort public perceptions of politicians and the institutions themselves, and, in turn, affect the strategic behavior of those inhabiting those institutions.
His research and teaching interests include political psychology, political communication, campaigns & elections, research design, statistical methods, American democratic institutions, and election administration. His research has been supported by grants, including from the National Science Foundation, and has appeared in journals such as The Journal of Politics, Political Behavior, Political Psychology, and Election Law Journal.
Learn more by visting his website at http://goggin.sdsu.edu.