Kimberley Fletcher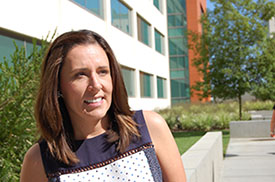 Office: NH 102 | Email: [email protected]
Kimberley Fletcher received her PhD in 2014 from the University at Albany, SUNY. Her dissertation is titled: Overseeing Politics, Authority, and Unilateral Presidential Power: The Court's Dynamic Role in Constitutional and Political Development in Foreign Affairs, which earned her the distinguished dissertation award. Dr. Fletcher joined the Department of Political Science at San Diego State University in 2014. She came here after spending 18months as a visiting professor at Ohio University. Her teaching interests include public law, American presidency, and American political development.
Her scholarship in the field of public law considers the intersection of legal studies and American political development. Specifically she examines the institutional aspects of law through developmental and historical lenses to help understand law as a political phenomenon. By reconceptualizing judges as legal actors institutionally bounded and historically contextualized she lends a new perspective on how legal regimes do not map political regimes, how legal time intersects with political time, and the dynamic relationship that exists between law and power. Dr. Fletcher is particularly interested in the way the mutual construction process constrains legal decision-making and how law defines and redefines the constitutional order with-in which the executive makes decisions in foreign affairs.
Article:
"The Court Gives the Executive More than a Helping Hand in Wielding a Strong Arm in Foreign Affairs Policymaking."The Maryland Law Review. Vol. 73, Issue 1: 239 (Nov 2013).
Book Reviews:
Zeisberg, Mariah.

War Powers: The Politics of Constitutional Authority.

American Political Thought. Vol. 3, No. 1. Spring 2014.
Griffin, Stephen.

Long Wars and the Constitution.

Law and Politics Book Review.Vol. 23, No. 10(2013)
Radin, Margaret Jane.

Boilerplate: The Fine Print, Vanishing Rights, and the Rule of Law.

Law and Politics Book Review. Vol. 23, No. 10 (2013).
Sarat, Austin and Jennifer L. Culbert (eds).

States of Violence: War, Capital Punishment, and Letting Die. Law and Politics Book Review. Vol. 20, No. 10: 544-549 (2010).